Humiliated, abused and isolated for weeks – patients were put at risk due to a "toxic culture" at one of the UK's biggest mental health hospitals, BBC Panorama can reveal.

An undercover reporter at the Edenfield Centre filmed staff using restraint inappropriately and patients enduring long seclusions in small, bare rooms.
Staff swore at patients and were seen slapping or pinching them on occasion.
Hospital bosses said they have taken immediate action to protect patients.
Greater Manchester Mental Health NHS Foundation Trust, which runs the medium secure unit, said it was taking the allegations "very seriously".
A number of staff members have been suspended, and the trust said it was working with Greater Manchester Police, the independent healthcare regulator the Care Quality Commission, and NHS England "to ensure the safety of these services".
Greater Manchester Police said it has opened a criminal investigation.
The BBC's undercover reporter, Alan Haslam, spent three months as a support worker inside the Edenfield Centre in Prestwich, near Manchester.
With capacity for more than 150 patients, it is intended to care for people held under the Mental Health Act who are at serious risk of harming themselves or others, including some patients from the criminal justice system.
Whistleblowers had made allegations about poor staff behaviour and patient safety at the hospital.
Wearing a hidden camera, the reporter saw:
Staff swearing at patients, taunting and mocking them in vulnerable situations – such as when they were undressing – and joking about their self-harm
Patients being unnecessarily restrained – according to experts who reviewed the footage – as well as being slapped or pinched by staff on some occasions
Some female staff acting in a sexualised way towards male patients
10 patients being held in small seclusion rooms – designed for short-term isolation to prevent immediate harm – for days, weeks or even months, with only brief breaks
Patient observations, a crucial safety measure, being regularly missed and records falsified
Dr Cleo Van Velsen, a consultant psychiatrist, said the BBC's footage showed a "toxic culture" among staff of "corruption, perversion, aggression, hostility, lack of boundaries", which was undermining patient recovery.
Prof John Baker, an expert in mental health nursing at the University of Leeds, said: "It doesn't feel safe. You're quite clearly seeing toxic staff. There's an awful lot of hostility towards patients across all of the wards, which is really concerning."
Claire – not her real name – has a history of self-harm and was filmed being humiliated by a female support worker for needing help with going to the toilet.
The staff member complained to her face about "having to look at your arsehole where biohazard fucking waste comes out".
In a sign that boundaries between patients and staff had broken down, on another occasion Claire sat on the lap of the same support worker, who said: "If you fart I will actually kill you." The support worker then pulled aside the patient's clothing and repeatedly slapped her bare skin.
A senior nurse was among those who watched, laughed and jeered as Claire was slapped. Most of the time nurses are in charge of the wards.
One nurse was filmed refusing to check on a crying patient named Olivia, who self-harms and has repeatedly tried to kill herself. The BBC is only identifying patients where they and their families have given consent.
Staff members laughed and joked that Olivia was "only crying" and "if she slit her throat you'd know it" because "she'd tell everybody about it".
When talking to patients about their bodies, staff used demeaning language, often passing it off as a joke. But patients told the undercover reporter they felt bullied and dehumanised.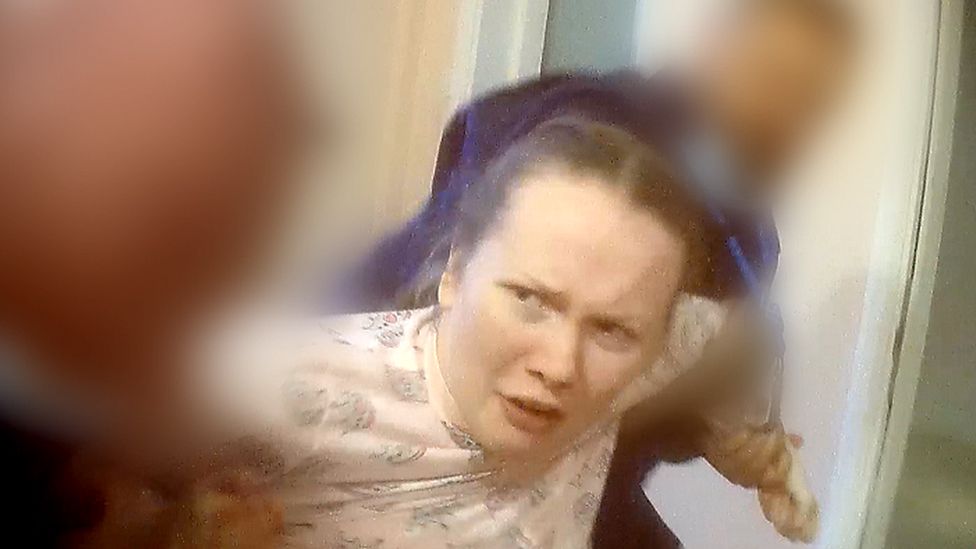 Olivia said staff had called her a "fat cunt", before claiming they had been joking. The 22-year-old's mother said Olivia had in the past stopped eating and drinking because she believed she was overweight. "It's not funny, it's not a joke," Olivia said.
Another time, when Claire was due for a weekly injection, she hid her head under a blanket. Support workers and the senior nurse with them did not try to persuade her to comply, but instead were filmed dragging her by the wrist from a chair and into a room down the corridor.
One of the support workers mocked Claire again as staff held her down on a bed and exposed her body for the needle, saying "as if we'd choose to see your arse" and calling her a "cheeky bitch" as she protested.
After giving the injection, the staff locked Claire in the room, telling her they would keep her there for an hour as they laughed at her through the glass in the door – before letting her out a few moments later.
Dr Van Velsen said the members of staff acted "like a gang, not a group of health care professionals". "It's against any policy I've ever seen about restraint in doing this," she said.
The code of practice for mental health workers says restraint and other "restrictive interventions" should only be used to take control of dangerous situations and stop anyone being hurt – not for punishment.
Full story here
Source: BBC News, 30th September 2022