Wigan has its own mental health joint response car, which helps to ease pressure on other emergency services by going to people in a crisis. It was launched in 2020 by Greater Manchester Police and Greater Manchester Mental Health NHS Foundation Trust and has proved to be so successful that it is now being rolled out across Bolton, Salford, Trafford and Manchester.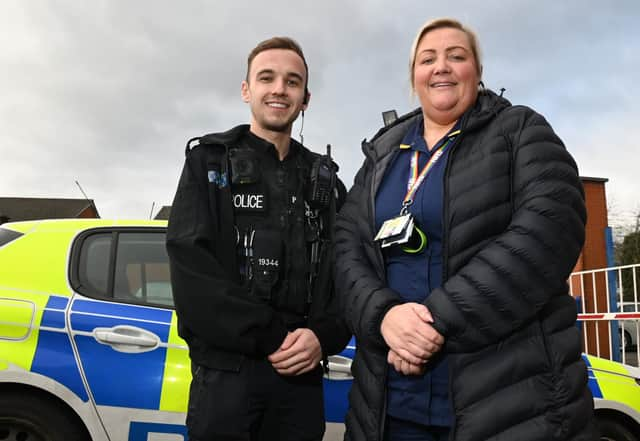 Senior nurse practitioner Natalie Marland is one of the mental health staff working in the car with police officers, including PC Tom Stanford, a response officer at Wigan police station.
PC Stanford said: "The majority of the time we have a positive response. When people realise we have a mental health nurse with us, it tends to calm the situation down completely.
"What we find is people are more happy to speak to a mental health nurse than a police officer."
When an incident is reported to the police, the call handler will consider whether it involves someone who needs mental health support.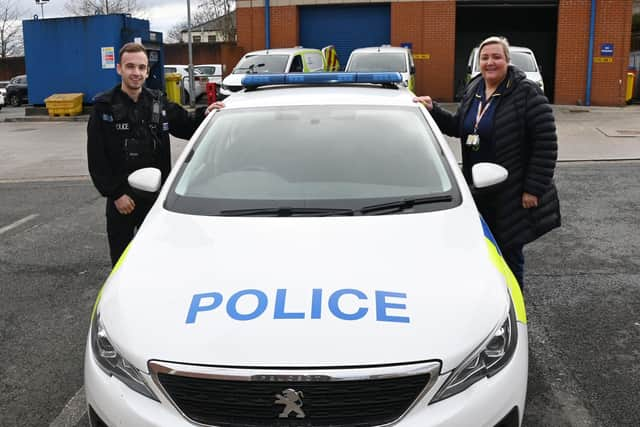 It could be someone threatening to harm themselves, a missing person or an elderly person with dementia, for example.
Miss Marland said: "It can literally be anybody that can present in crisis. We are there to help them in that period of time and see what we can do to alleviate some stressors or concerns they are enduring at that time."
The mental health response car is deployed to wherever it needs to go in the borough. Miss Marland can check mental health records en route to find out if the person they are going to see is already known to services and what help they are receiving. It means she has a head-start in helping the person in crisis.
Once the police officer has checked everything is safe, Miss Marland can speak to the person struggling with their mental health. Even if a crime has been committed, their mental health is addressed first.
Miss Marland can carry out an assessment and consider the right support or treatment for them.
She has worked across mental health services in her career so has a wealth of experience when speaking to people.
She even carries a packet of cigarettes – despite being a non-smoker – in case it helps someone to feel at ease.
After the assessment, Miss Marland can look at taking them to a place of safety, helping them to access further support from community services or taking them to hospital.
She can refer people to a whole host of NHS services, but also for support with drug and alcohol problems, bereavement, PTSD, debt, housing and social care.
But sometimes it is as simple as asking a GP to review a patient's medication.
Miss Marland said: "Any contact that we have with anybody, I would send a detailed assessment to their GP.
"It might be they are not on any medication but are asking for an anti-depressant, so I could put that in my report.
"They will get that the next day and it will be sorted in a few days. But with the current system, it could take weeks and weeks."
Without the mental health clinician's attendance, police officers would be limited in the help they could offer to someone in a mental health crisis.
They may even have to detain them under section 136 of the Mental Health Act and spend several hours waiting at A&E until they are seen.
But the mental health joint response car means people can be seen quickly and get the help they need in the least restrictive way.
PC Stanford said: "It's a better option for the person. Natalie will assess them straight away and get the assessment typed up so it's in the system.
"But if they are taken to the hospital by police, they get more annoyed in a waiting room and then seeing doctors. It's a very long process."
Working alongside mental health clinicians has allowed police officers to improve their own skills when speaking to someone in a crisis, if the mental health joint response car is not available.
PC Stanford said: "From an officer's point of view, it's good to see how Natalie works and the type of questions she asks and to see how she does those assessments.
"When a mental health nurse isn't there, you can adapt your approach to people."
The partnership eases pressure on the police and hospital, with further work being done to help frequent callers.
It also reduces demand on the ambulance service, as sometimes the mental health joint response car can attend an incident instead.
Miss Marland said: "They might be a category five call, which is about eight hours, but we can be there in an hour. We do cancel a lot of ambulances by going to see people."
The mental health joint response car is having a big impact in Wigan, with 902 referrals made to the team between April 2022 and January this year.
This resulted in 570 A&E avoidances and 411 section 136 assessment avoidances.
A "street triage form" was filled out for 819 of these referrals, which resulted in: 30 hospital admissions; 233 already open to mental health services were handed over to their current service; 76 referrals to the mental health assessment team; 32 referrals to the home-based treatment team; 47 referrals to primary care; 177 GP referrals; and two receiving a triage car action plan.
It is hoped its success can be replicated as it is now being rolled out.
Source: Wigan Today, 4th March 2023