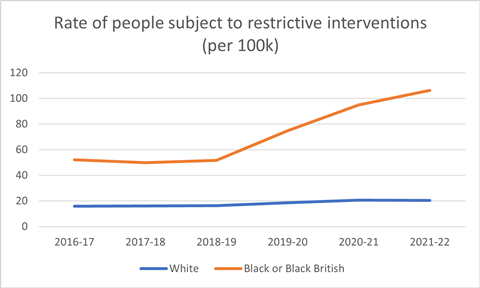 Figures show steep rise in rates of black people receiving restrictive interventions
Rates double in six years, but up 30 per cent for white people in same period
Charities "appalled", warning that data "reinforces impact of systemic racism" on safety 
The rate of people from black backgrounds being restrained in mental healthcare has more than doubled in the past six years, widening the gap with other racial groups, according to official NHS data.
Standardised rates of black and black British people subject to restrictive interventions – including physical, chemical and mechanical restraints – have leapt from 52.1 per 100,000 people in 2016-17 to 106.2 in 2021-22.
That is compared to a much smaller increase of 30 per cent in the same period for people from white backgrounds, from 15.8 per 100,000 to 20.5.
Data for people in mixed ethnic groups also significantly increased – with rates rising from 39.5 per 100,000 in 2016-17 to 67.1 in 2021-22.
For those from Asian backgrounds, there was an increase from 13 per 100,000 to 25 in the same time frame.
NHS race and health observatory director Habib Naqvi told HSJ he was "very concerned" at the rise.
He said a "range of complex causes are likely to be presented to account for this pattern", including disparities in care pathways, late presentation and lack of timely diagnosis, and general overuse of restrictive practice on people from minority ethnic backgrounds.
He added: "It is critical we also focus on 'causes of the causes' of these disparities, including the impact of discrimination and bias on access, experience and therefore outcomes of mental health services."
Rates for black people reached their highest since the data began (in 2016) in the year to 31 March 2022. In the same month, the Use of Force Act, known as Seni's Law – launched following the death of Olaseni Lewis who died as a result of a prolonged restraint by police at Bethlem Royal Hospital in South London in 2010 – came into force.
The act defines use of force as any physical, mechanical or chemical restraint and requires mental health providers to appoint a responsible person accountable for establishing a use of force policy, staff training, and information rights for patients, among other requirements.
Monthly data on restrictive interventions is not yet showing significant reductions among racialised groups. Detailed national-level data has not yet been produced, although NHS England will be required to report performance annually to the DHSC under the act.
Lucy Schonegevel, of Rethink Mental Illness, added: "We're appalled to see the staggering number of black or black British people subject to restrictive interventions in mental healthcare.
"These statistics reinforce the impact of systemic racism that risks the safety of mental health patients, damages their experience of treatment and ultimately hampers their recovery.
"Now that Seni's Law has been enacted it must be comprehensively implemented so that there's a significant reduction in the use of force on mental health wards and these numbers drastically fall."
Perceived as 'dangerous'
Leaders of health organisations representing racialised communities recently gave evidence to the joint committee on the draft mental health bill which is aiming to eliminate racial health inequalities.
It also aims to give people more control over their treatment, particularly those from ethnic minority backgrounds, who are disproportionately detained under the act, with black people over four times as likely to face detention.
Many speakers highlighted disproportionate use of community treatment orders, under which clinicians supervise patients in the community, and called for them to be scrapped.
Separate NHS data published last month reveals use of community treatment orders for black or black British groups (75.5 uses per 100,000) were over 11 times the rate for white groups (6.8 uses per 100,000).
Lily Huggins, of Manchester-based mental health advocacy service Gaddum, told MPs and Lords: "We can infer from current statistics that minority racialised groups, and black people in particular, are perceived as needing additional restrictive measures by approved mental health professionals."
She added: "Whether that language is 'dangerous' or 'risk of harm', that perception is still there and needs additional inquiry."
Meanwhile, NHS England's mental health equalities adviser Jacqui Dyer told the committee that reforming the Mental Health Act provided an opportunity to reduce racism in current services.
She added: "[We need to recognise] that the power to abuse is most pertinent in that context, as many of you will have seen with the recent Edenfield [reports of abuse and toxic cultures at a Greater Manchester mental health unit] issue.
"We have to keep that front and centre, because while we were able to see visually, in the same way as we saw George Floyd's situation, what happened in Edenfield to people at their most vulnerable, and the abuse that took place in that setting, that has been going on for decades in relation to the black experience, particularly in secure mental health settings."
An NHS England spokesperson said: "Restrictive practices should always be a last resort which is why NHS England has invested in various patient safety programmes and is currently working to improve the reporting of restrictive practices, including protected characteristics.
"Despite improvements in some areas like talking therapy recovery rates, we want to do more to address inequalities in outcomes for ethnic minorities, and we are developing a race equality framework for mental health trusts which will support them to provide more responsive care in partnership with the communities they serve."
A DHSC spokesperson added: "We are committed to preventing the inappropriate use of force in mental health units and to reforming the Mental Health Act to address racial disparities.
"We introduced Seni's law – also known as the Use of Force Act – to ensure better accountability and transparency over the use of force in mental health units, including on people from ethnic minority groups.
"We are also piloting advocacy services to support the needs of people from ethnic minority groups who are subject to the Mental Health Act, with trained advocates ensuring that cultural differences – such as religious preferences or specific communication requirements – are understood and acted upon."
Mental Health Bulletin, 2016-22 annual reports
Source: Health Service Journal, 24th November 2022